And so another year for ElephantSQL has passed. Let's take some time to recap another successful year and point out some of the components for making it so.
This year we focused a lot on availability, security, and relevant integrations for making ElephantSQL better than ever.
One of our biggest achievement (even not the most advanced one) is that we, by popular demand, made big changes in pricing for both our dedicated and shared plans. These new plans give those interested in trying out an easy-to-use Database As A Service the opportunity to try ElephantSQL to a greater extent. We have added a new shared plan which is availbale for you, for only $5 a month! You can find all our plans and pricing on our plan site here.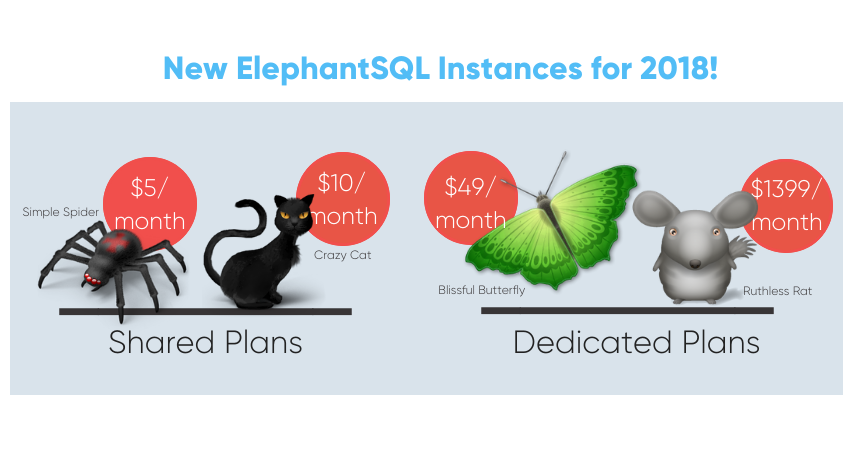 We started off with adding the ability for our customers to set team members permissions with Acces Contol List, a security action followed by the introduction of alarms based on CPU, Memory usage, and disk space for ElephantSQL and then we added VictorOps and OpsGenie as additional alternatives for receiving alarm notifications.
During this year, we've added several regions for making ElephantSQL more available and we have done some significant integrations to make usage of ElephantSQL easier and more efficient. Some of the integrations made during 2018 were;
So what's next for 2019?
First of all, the ElephantSQL team is expanding and this means that we in 2019 will, to a greater extent, offer technical support 24/7 since we're adding staff in Asia! During early 2019, we're adding option for VPC peering for dedicated plans and the possibility to schedule your time for instance backups. We will also put a lot of effort into simplifying the graphic web UI (by enabling pgAdmin4) and we will offer the possibility of adding a firewall. 2019 will also be the year of improvements among our current features and add-ons as upgraded alarm and metrics systems. And, as always, our many (and different) users requests are the very fuel in our improvements and changes-machine. If you have ideas, requests, questions don't hesitate to contact us at contact@elephantsql.com.
Best, ElephantSQL Team