Getting started
To get started you need to sign up for a customer plan. What plan you want to use depend of your needs. We offer five different service plans, three dedicated clusters and two shared clusters.
You can try ElephantSQL for free with the plan Tiny Turtle. All other plans are billed by the second, so you can try out even the largest instance types for mere pennies. Billing occurs at the end of each month, and you're only charged for the time an instance has been available to you.
It is easy to get started with ElephantSQL. Create an account by clicking Sign up and enter your email address or use a third-party service. If you already have an account, just enter your email and password and press the Log in button.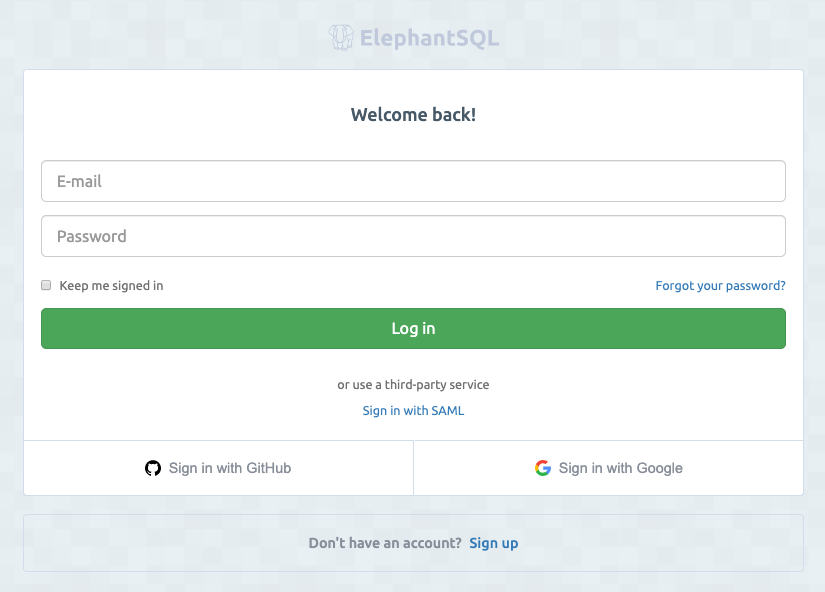 An email will be sent to you with email address confirmation information. You need to confirm your email and add some additional information like billing information before you are able to create a paid plan.
Create a new instance
If you would like to create a paid plan, you need to start by adding a credit card to your ElephantSQL account.
To create a new instance, press + Create New Instance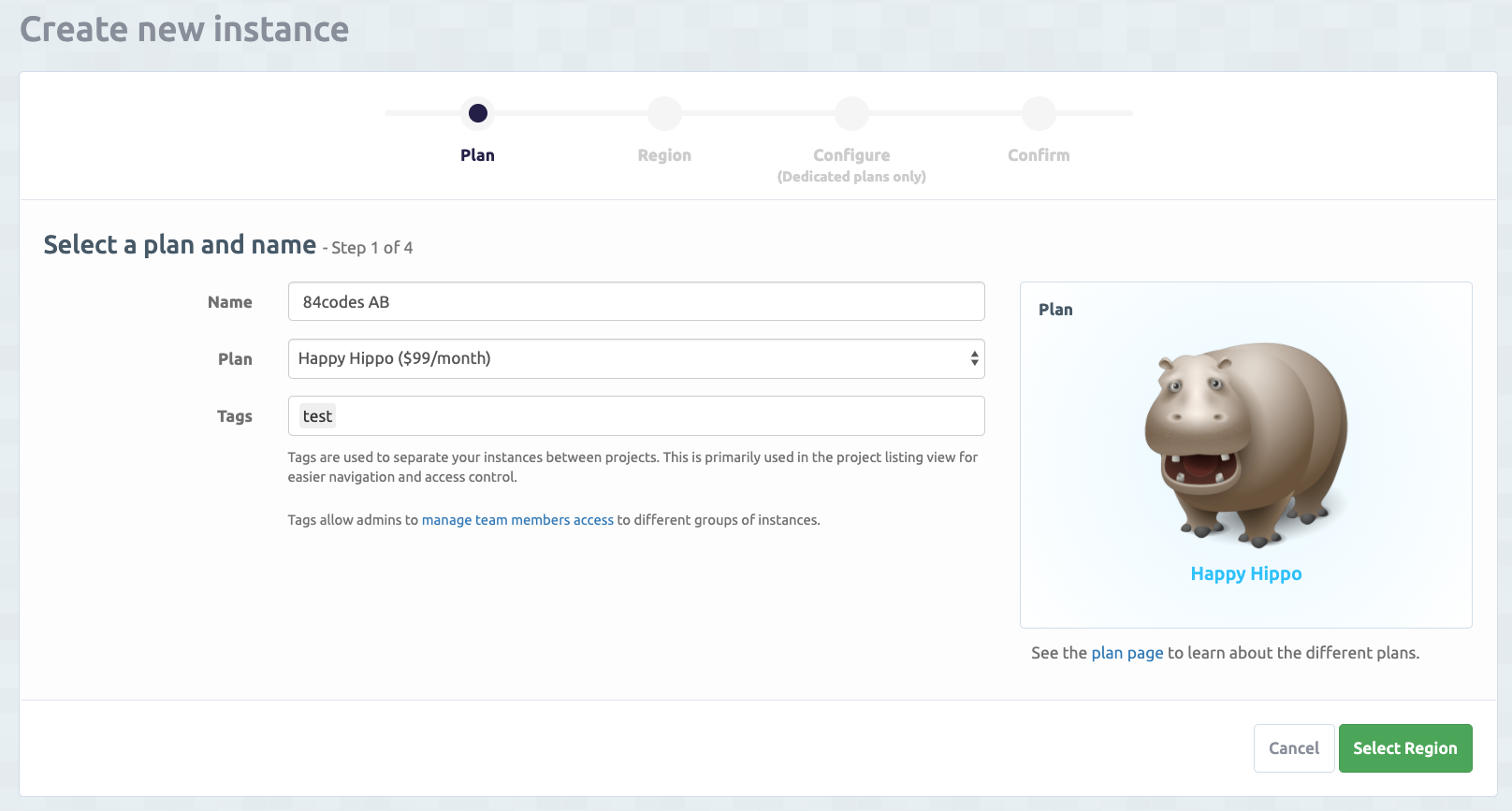 Name: The name of the instance. This name should be a name that helps you identify which application the instance is used by.
Plan: The plan you would like to have.
Tags: used to separate your instances between projects. This is primarily used in the project listing view for easier navigation and access control. Tags allow admins to manage team members access to different groups of instances.

Data center: Choose the datacenter and region of where your instance will be located. Choose the datacenter that is closest to the servers of your application - you want the latency to be as low as possible. When creating a shared instance, not all data centers will be available.

Only available for dedicated plans.
Role: You can choose how your PostgreSQL should be installed:

Standalone
Fork instance
Point in time recovery

PostgreSQL version: Choose the PostgreSQL version for your instance.
Immediately after the instance is created it will be provisioned to you. The instance details, such as connection URL, statistics, connections and your slow queries can be seen at the details pages. From here will you also be able to restore backups and rotate your password. If you are on a dedicated plan you will be able to view server metrics, you can set up followers and you can view information for all your databases.
Connection URL format: postgres://username:password@hostname/databasename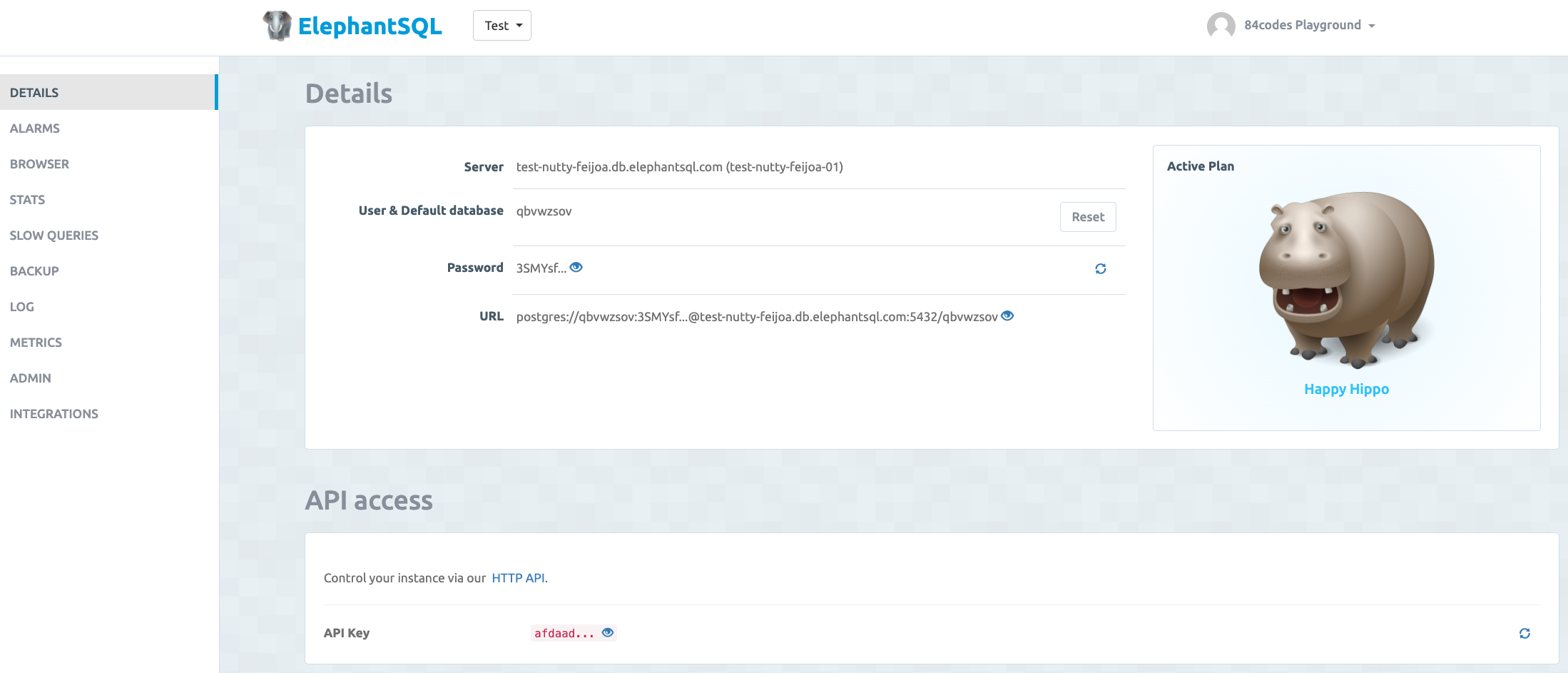 Once you have created your account you can get started using your PostgreSQL database by using any of the guides listed, depending on platform and language. These tutorials cover the basics of how to get started with ElephantSQL.
The database instance can be tested and used via different tools, e.g the ElephantSQL SQL browser, pgAdmin or psql. A link to ElephantSQL SQL browser page can be found from the management console for your instance. From that page you can execute sql queries from your web browser. psql is an interactive terminal for work with Postgres and pgAdmin is a graphical administration client for PostgreSQL.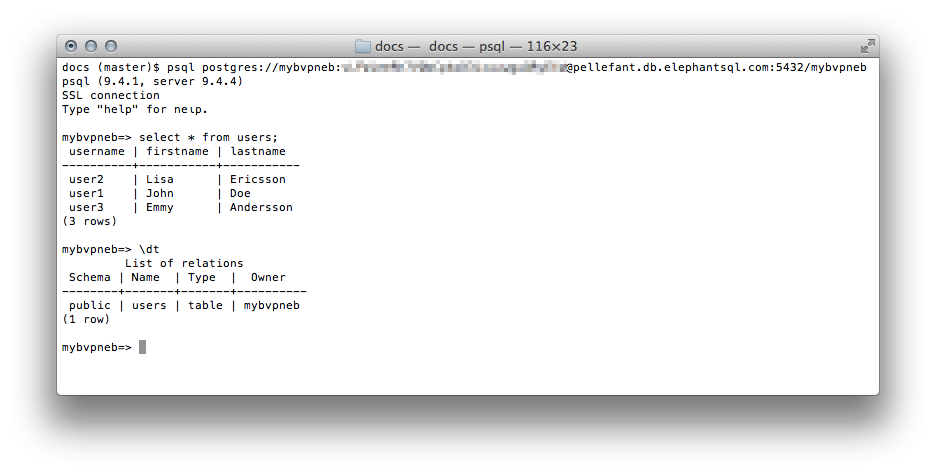 More information about ElephantSQL, tool, monitoring and backups can be found under the Product Overview.
Add Follower, Create Fork and Point in time recovery
Press edit on your instance and you will see the options to add a follower, to create a fork or to do a point in time recovery. You can also find the option to add a follower from the control panel of your instance.