The ElephantSQL-team highly value the opinions of our customers, and that's why we've added two new plans on our shared servers.
Both new plans come on a shared high-performance server:
Simple Spider ($5/month) gives you 500MB data and 10 concurrent connections.
Crazy Cat ($10/month) gives you 1GB data and 15 concurrent connections.
These two cost-efficient plans are both significantly extended in comparison to the free plan;
Tiny Turtle ($0/month) where you get 20MB data and 5 concurrent connections.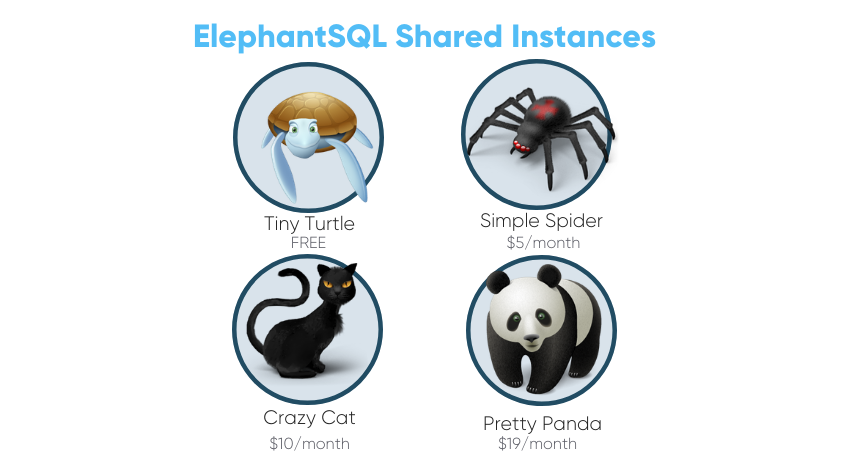 These new plans give those interested in trying out an easy-to-use Database As A Service the opportunity to try ElephantSQL to a greater extent. Check out our different plans on ElephantSQL Pricing Page.
The ElephantSQL-team also recently added two new dedicated plans; Blissful Butterfly ($49/month) which gives you 2 GB RAM, 50 GB Data and up to 50 concurrent connection and a new high-performance plan Ruthless Rat ($1399) which gives you 64GB RAM, 2000 GB Data, and hundreds of connections.
Read more about our new plans for dedicated PostgreSQL instances
Hopefully, you find the plan that fit your needs, and if you have any comments, suggestions or thoughts - don't hesitatte to contact us at support@elephantsql.com.
You can find all our plans on our Pricing Page.
Best, ElephantSQL Team